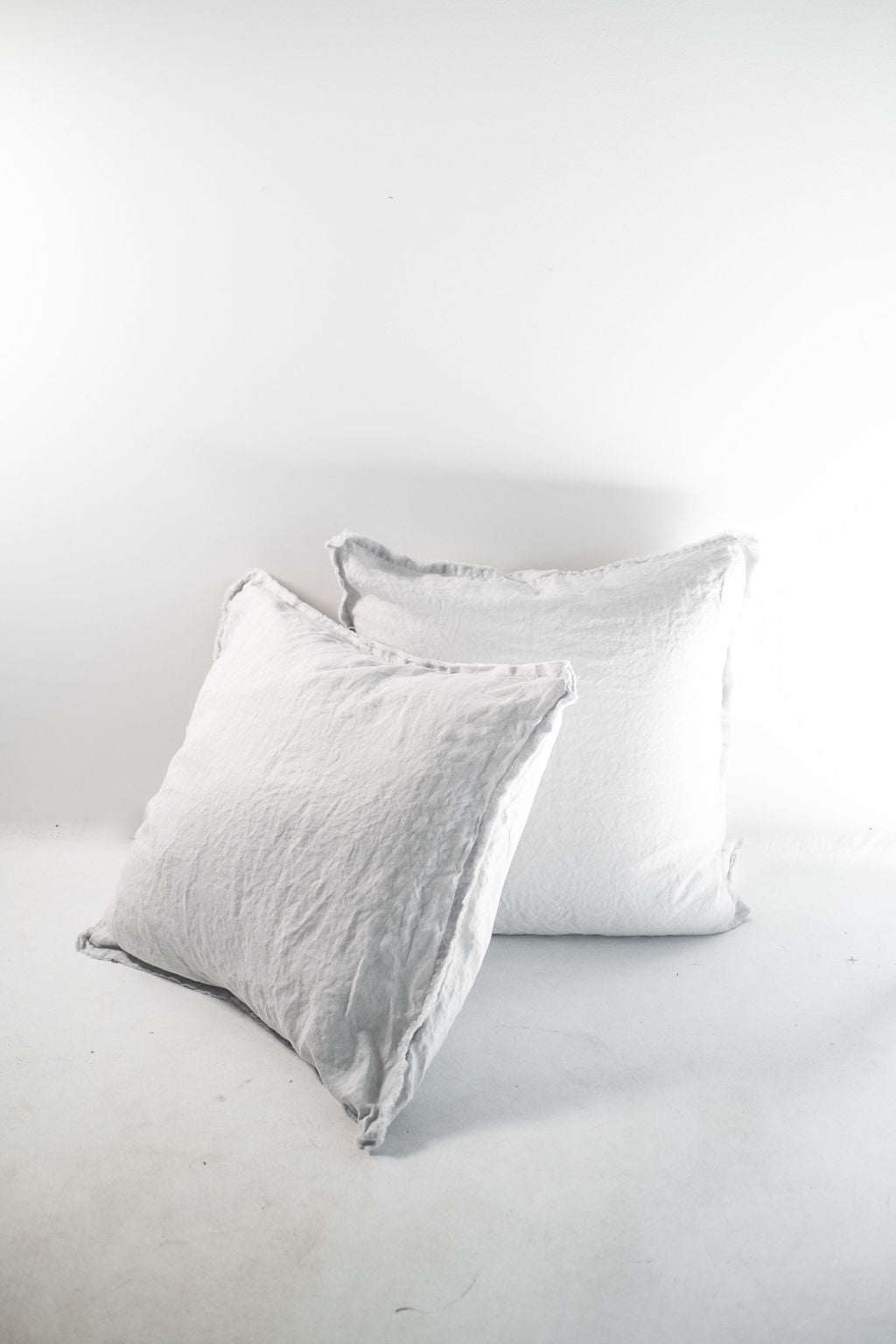 WHITE LINEN EUROPEAN PILLOWCASES
Bedtonic has the answer. Our sublime European sized white linen pillowcases are a premium part of our linen bedding set that have a classic style, with a fully sustainable twist. Consciously selected 100% natural fibres are woven into luxury homewares with the planet in mind. We're removing the risk of landfill by making sure all our products are durable, and free of cheaply processed synthetics, helping you achieve the eco-friendly home you've always wanted. This is the ethos of our founder, Julie, who has designed all of our products to be enriched with the natural properties of her childhood home in Lake Wanaka, NZ. Inspired by the strength of natural resources, and driven by a passion for the planet, Julie created these lush white linen European pillowcases to ensure every home has access to long-life quality renewable products. You too can rest easy, knowing the crisp, cool linen pillowcases around you isn't going to cost the earth! Read More
Dreaming of the Perfect White Linen European Pillowcases?
We've seen our fair share of shoppers left feeling deflated when their unethical, cheaply manufactured synthetic bedding gets thrown into landfill after just a few seasons. It's a worldwide problem, and it requires hands-on repair by companies with a passion for sustainable products. Bedtonic is devoted to generating renewable alternatives for those looking for classic, durable pieces for their home. One fantastic example lies in our white European linen pillowcases. Made from entirely natural and ethically sourced fibres, these cases bring year-round comfort and satisfaction to customers throughout Australia and across the world. The light and refreshing texture of our products like ourwhite linen european pillowcases helps to avoid that overbearing stuffy sensation of trapped heat while resting, improving sleep quality and keeping skin clear. Inclusive of all sizes, our accompanying range of products makes it easy for everyone to find a worthy slow living alternative to synthetics.
Why Buy White Linen European Pillowcases from Bedtonic?
Over 50% of our products are made right here in Western Australia by local experts and professionals dedicated to increasing access to eco-friendly homewares. Classic pieces like our white linen European pillowcases are made in small, considerate batches, where extra care is put into enhancing seam strength and checking fibre condition throughout the manufacturing process. This means our divine pillowcases are likely to last generations, not just seasons! We're actively putting in the work to reduce carbon output, feed profits back into the local community and nourish the natural ecosystems from which we take our fibres. It's a renewable cycle we hope to see more homeware firms implement in the future! Plant-powered products, perfected. It's the future!
Slow Living Can Be Luxury – Our White European Linen Pillowcases Prove it!
With Bedtonic's eco-conscious homewares, you're taking a step towards a greener future, and you'll soon see the personal benefits. Our happy customers aren't exactly shy about the impact our products like our white linen european pillowcases have on their daily lives, leaving a trail of over 3000 five-star reviews for your perusal! Now we're shipping worldwide, there's another great reason why you should treat yourself to a guilt-free luxury purchase that will last years.
You could be our next happy customer! Browse our full range of classic european linen pillowcases or linen clothing via the shopping tab above, see our FAQs for a little peace of mind, or simply contact us with the details below for any queries. We can't wait to set you off on your journey to peace of mind! Read Less