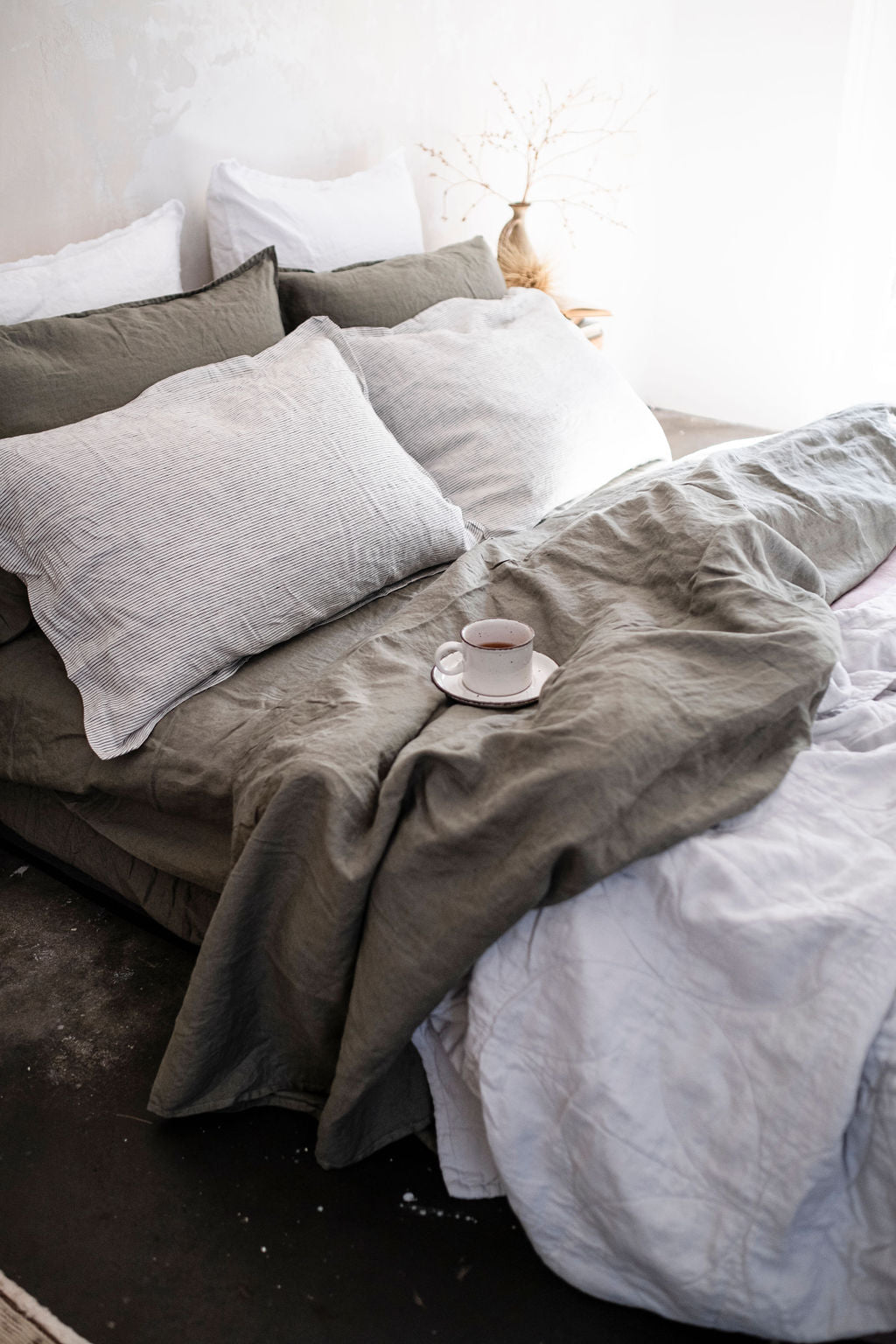 SAGE LINEN QUILT COVER
Here at Bedtonic, a peaceful night's sleep comes naturally. Consciously gathered 100% natural fibres are crafted into premium-quality homewares and linen loungewears with minimal impact on the environment. You can rest easy knowing your purchase of our products, such as our sage linen quilt cover will last years, not seasons, and without the looming worry of contributing to landfill. Our founder, Julie, has designed these products with her New Zealand home of Lake Wanaka in mind. Each piece is inspired by the unyielding durability of the natural world, and made by hand to ensure it stands the test of time. Julie's perspective is the reason why our homewares are so popular here in Australia – why invest in unethical manufacturing processes for a product that won't last? Our sumptuous sage linen quilt cover will take your senses out into the wild, and create night after night of blissful sleep. Read More
Step into Serenity with our Sage Linen Quilt Cover Set
We've grown tired of seeing people waste money on synthetic products with a short life expectancy. Homewares made cheaply in huge batches lack quality control and assurance measures, which is something we refuse to incorporate into our business. Take this divine linen quilt cover in sage, for example. Made from responsibly sourced natural fibres, adding this classic piece to your bedroom set will help you avoid overheating under heavy synthetic materials, ensuring a tranquil night of rest year in, year out. We've been careful to include a wide range of sizes across our products, because everyone deserves to have access to sustainable comfort. Why not begin building your eco-friendly home with something you know will last?
So, What Makes Bedtonic's Sage Linen Quilt Cover So Special?
Whatever your style, Bedtonic's sage linen doona cover adds that classic, luxury linen bedding touch that is often missing from the sustainable lifestyle. It's a planet-powered process that makes the most of what nature has provided for us, and we make sure to utilise local talent to make it happen. Over 50% of our products are made with care here in Western Australia, with local craftsmanship and sustainability expertise taking centre stage. By making sure our carbon impact is minimal and feeding our profits back into the local environment, Bedtonic's cycle of renewable products can be enjoyed by generations to come. It's a real star product – as good for the planet as it is for your health. Constructed in small, careful batches with particular attention paid to seam finishes and fabric quality, we can provide customers with a good night's sleep with such products like our sage linen quilt cover that doesn't cost the earth!
Bedtonic's Sage Linen Quilt Cover Set – A Piece of Heaven on Earth
Equipping your eco-friendly dream home with the perfect bedding set has never been this stress-free. Everything you need is just a few clicks away! If you're not sure we're the real deal, our customers have come out in force with over 3000 five-star reviews showing exactly what we can do! It's about time the homewares industry had a real shake-up, and we're making moves to produce items that do just that. Why not rest easy, wrapped in the meadow of our sage linen quilt cover? It's the best decision you'll ever make.
See our full range of pure linnen bedding set and linen clothing products in the shopping tab above or contact us directly with the details below! You deserve a little luxury. Read Less