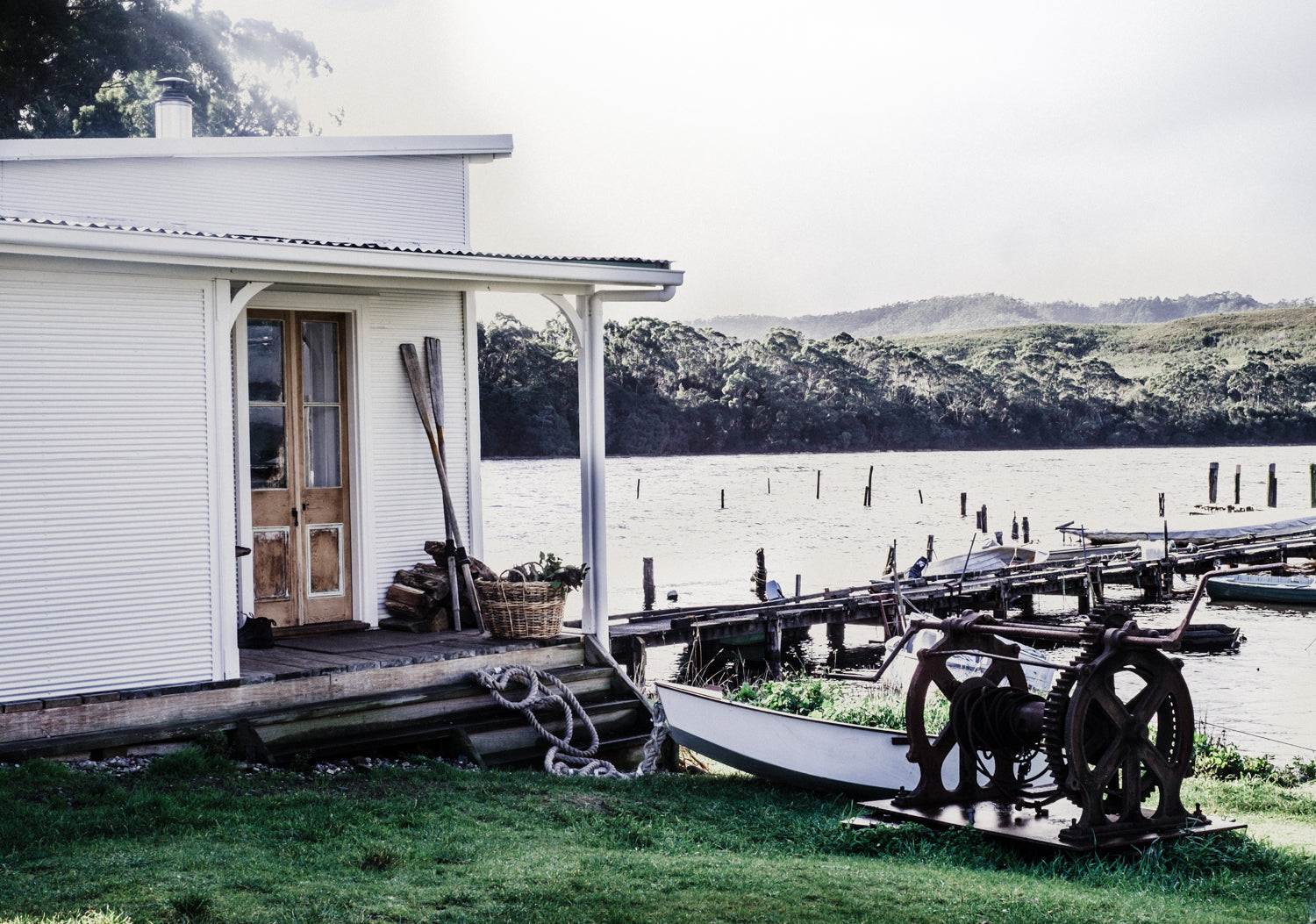 Bedtime Stories: Sarah Andrews at Captain's Rest
Captains Rest looks like the sort of place you might stop over for a bit, and find yourself never leaving. The water's edge on which it rests reflects the Tasmanian sky like a mirror, and the rooms inside seem to change and show you something new each time you enter. It is a place to rest and to find yourself. Every nook has been designed and furnished with love, with objects and collections from all over Australia and the world, wherever Sarah has wandered.
Sarah Andrews is its discoverer and creator, and it has become a haven of peace and serenity for her, and all who are lucky enough to visit and rest here.
The house is a historically listed cottage in Lettes Bay Village, just outside of Strahan, Tasmania.
Lettes Bay Village itself is a vibrant heritage shack community — bustling in summer, serene in winter.
Sarah's story is not one for the faint-hearted, however, the way in which she has risen from these struggles indicates the kind of person that she is, and the inner strength she possesses.
Sailing across the Pacific Ocean in her boat Gabrielle, a disastrous storm struck and sunk her beloved home, leaving her stranded and bereft. In one night, she lost everything she loved. In vain, she searched for the same feeling of belonging and home that she once shared with her vessel and the ocean.
After spotting the ad for a run-down cottage on the Tasmanian Coast, she found what she had been looking for. Her creative nature and wanderers soul leads her far and wide across the globe, but she finds herself coming back to her captain's rest, always.
While you are living at Captain's Rest, what does a typical day look like for you?
I rebuilt this little house myself, and from start to finish, I designed the house around how I like to live. And how do I like to live? Well, let me lay out my regular days here.
I wake up generally when all the little birds around me do, my bedroom is tiny, and my bed big and comfortable, so I roll over and pull open the linen curtains so I can watch the world wake up over the water, which wraps around the house — I'm lucky enough to see it from every single room in the house, it's a special place.
Next, it's choosing your own adventure. If I'm into a good book, I'll get up and make a coffee and bring it back to bed. If I'm lucky enough to get a pink sunrise, where the whole world here turns pink from the sky reflecting on the black mirrored water, I'll run outside and just be in it. Sometimes I'll make a bath, and go from bed to bath and sit in there for a while.
Days consist of music, curling up in all my spots in the house, a walk through the little forest next to me, a jump off the jetty and a dry off either in the sun or in front of the fire, depending on the season. And at the end of every single day, I row in my boat on the inky water and watch the sunset, it's so so so magical to row towards my little house in the dark with only the lights I've left on for navigation, it's such a thrill.

Evenings, red wine, fires, more music, endless stars - sometimes I get to see the southern lights from my window, or the path of the full moon on the water outside. It's quite otherworldly.  
Do you have a favourite room in the house? What do you like about it?
It's my tiny lounge room with those big windows, I like to see the world from where ever I am, looking out from somewhere warm, like a safe harbour.
What are some of the shining moments in your life, that you like to look back on and reminisce about?
I think this period I am in now will be one I will always be so proud about. My journey with Captains Rest led me to such huge success in business and the interiors landscape, I wanted to give back by teaching and helping others, just as some of the best and brightest in the industry and the world had helped me. No one does it alone and I just felt so lucky. The giving back, the workshops and now ultimately my online school who's first intake sold out in just hours. At a class, someone once asked me if I was pinching myself. I said 'sort of, yes! But it's what comes next for you, and getting to watch you grow and soar for yourself, that's when I pinch myself.' What a gift to get to give, I am so proud and lucky.   
What inspired you when you were renovating and styling Captains Rest? Were there certain things/a look you wanted to use from the beginning?
​
I wanted Captains Rest to feel like two things. Humble, and comfortable. I wanted to be able to snuggle in every single corner of the house, make a big mess and not really be able to see it. Humble, relaxed, lots of spots to make cuddle puddles.
What are the three things you can't travel without?
Rose oil, my Barbour Jacket and my iPhone, I run my world from it!
What are your three favourites things at Captains Rest?
That window, my ducks and the big old clawfoot bath. Simple but beautiful things.
Was being an Airbnb host what you thought it would be? What is the best and worst part?


Better, it's one of the most rewarding roles I have ever had in my life. There is nothing bad about it, besides not getting to spend enough time at my own house!
What are the things you would recommend any Airbnb host to include in their accommodation?
LINEN!
Call me a snob but I can only sleep in linen, and any Airbnb that doesn't have linen on the bed feels cheap and nasty. I think I got spoiled by all the lovely linen gifts given to me last year when I was sick and in bed a lot and now I can't go back.
Join Sarah in her next venture,
The Hosting Masterclass,
where she offers to teach you everything you would need to know, "Be it AirBnb, Hip Camp, a boutique hotel, your spare room, or something else entirely you've dreamed up…"
Find The Captains Rest
here
or on
Instagram
Find out more about Sarah Andrews
here
Sarah's favourite linen pieces from the Bedtonic collection are:
Pure Linen Circle Stitch Blanket in Terracotta and Pure Linen Sheet Set in Marine Ticking Stripes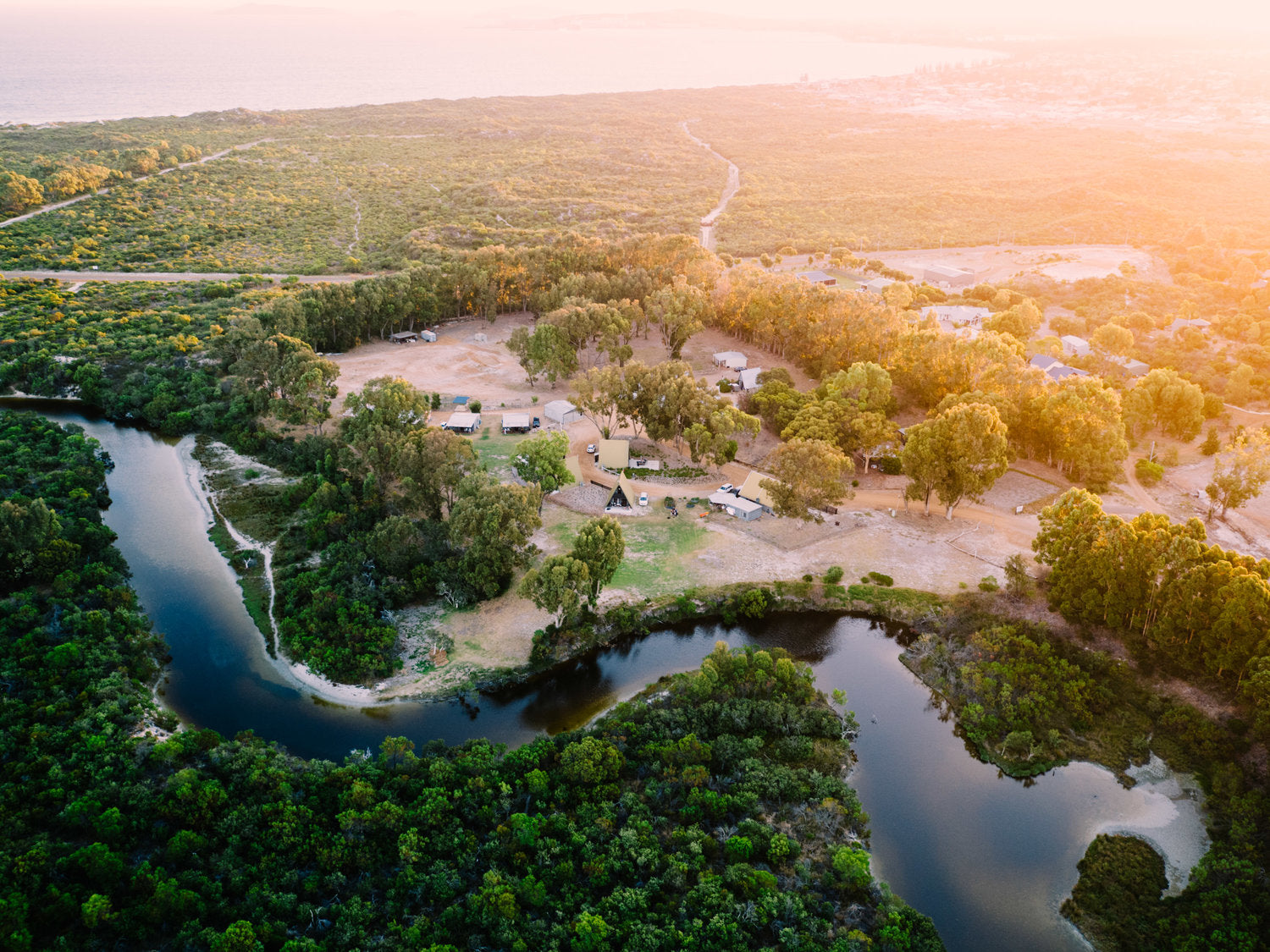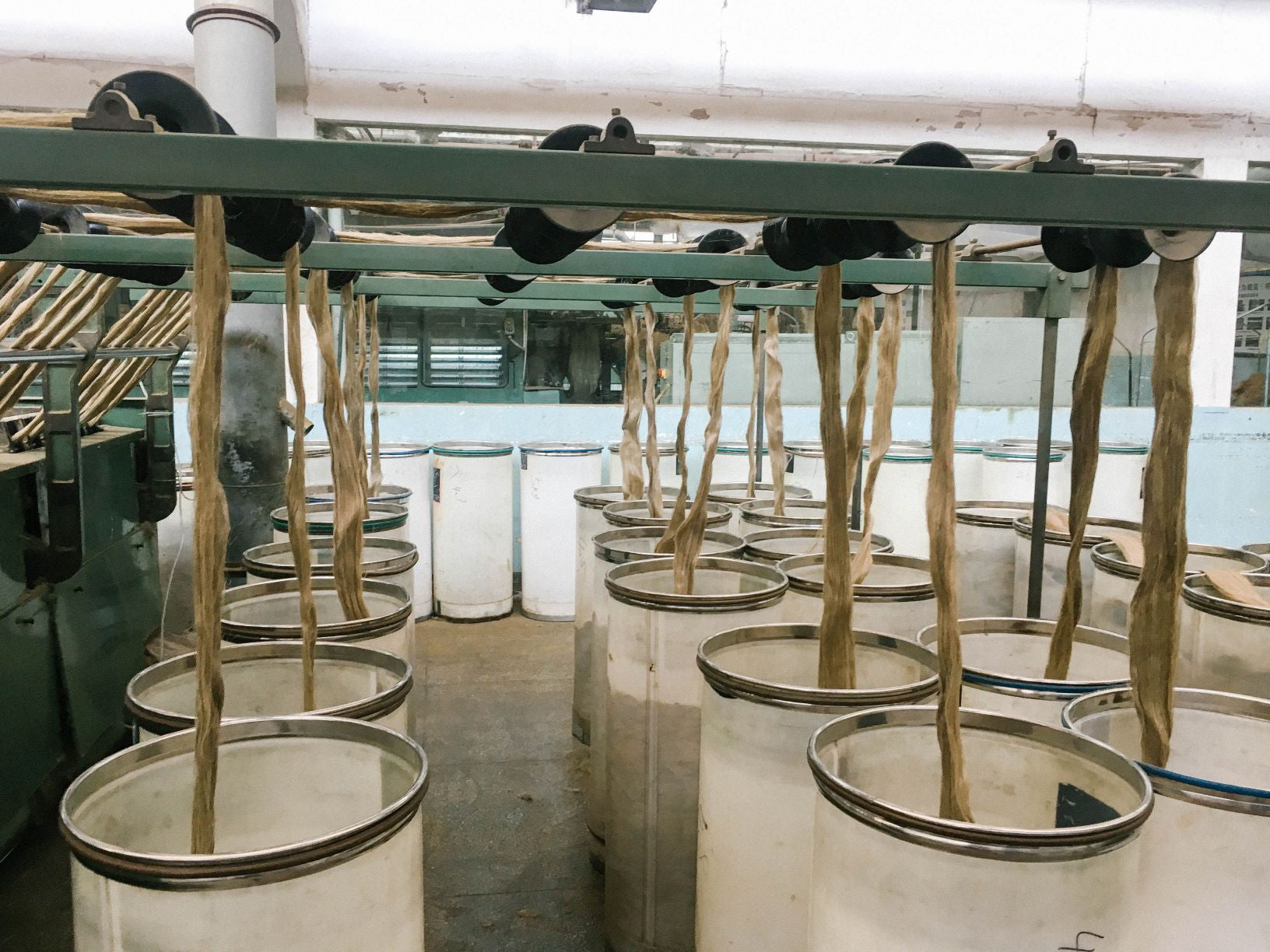 Bedtonic Makers: Behind the Scenes
  My trips to China to visit our makers are always a mixture of things; adventure, chaos, happiness, gratitude and this trip was no different!     I try and visit my manufacturers once a year as a...
Read more