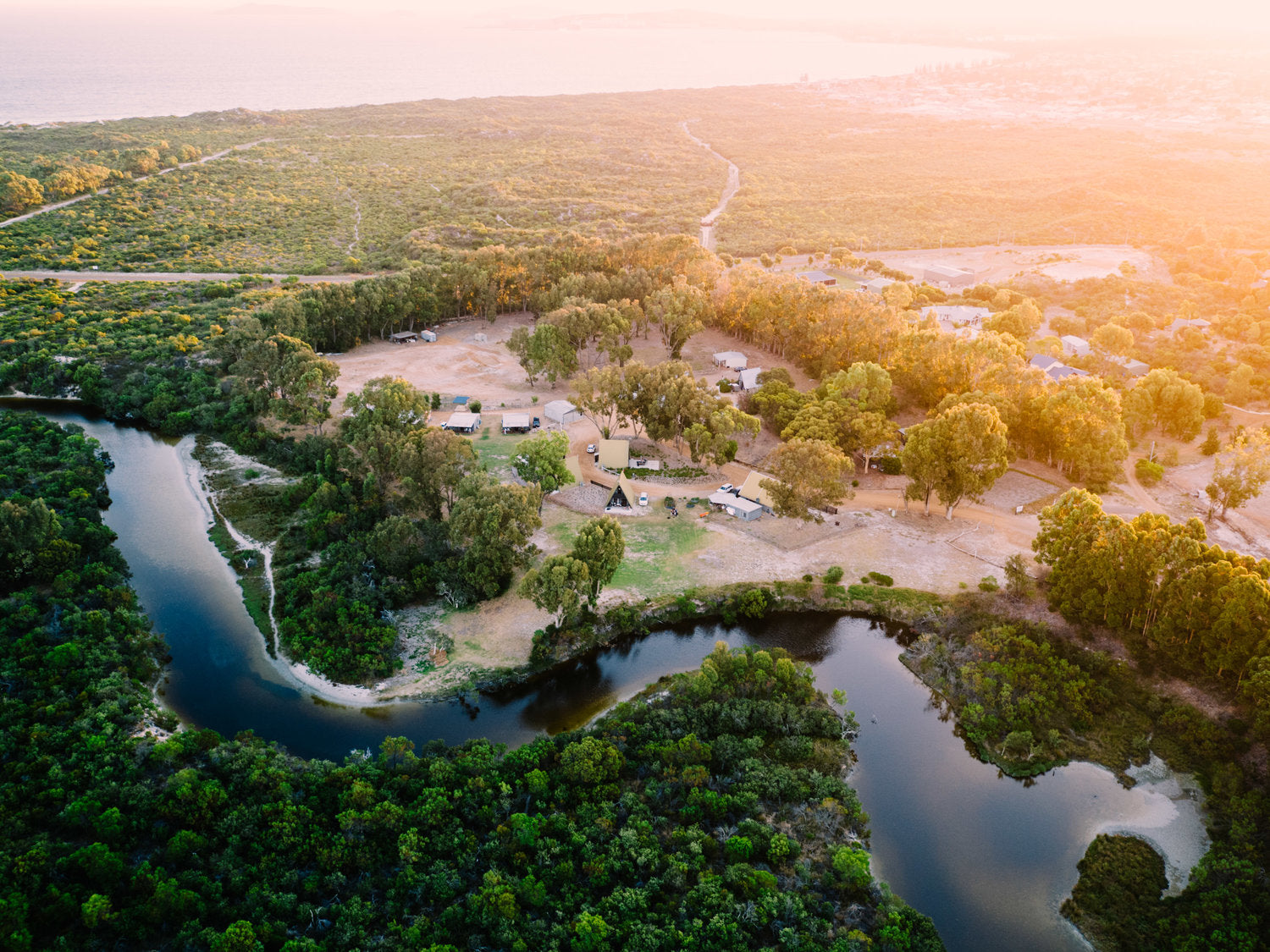 Bedtime Stories: Fiona Shillington at Esperance Chalet Village
Speaking with Fiona Shillington, you get a sound sense of the strong-willed, business-savvy woman she is, as well as the down-to-earth, Esperance born and raised girl behind it all.
With four children and her sailor husband, she is happy to be residing in such a peaceful, relaxed place as Esperance.
Her chalets reflect her laid-back nature, her love of the Western Australia coast, and a passion for supporting local businesses, decking out the rooms with pure French linen from yours truly, displaying pieces by local artists Knots and Weave, Wildberry Art and Tammy Andrews and sourcing your morning cup of coffee from WA locals Upward Spiral Roasting and Downtown Espresso.
Esperance Chalet Village offers adventure, family memories, and freedom to explore in its wild quiet spaces and stark beauty.
But most importantly, it is the perfect atmosphere to just pause and take a breath and sink into that hammock. Maybe with a book and drink in hand.
We spoke to Fiona about life in Esperance and living in the village.
Photos - lovechilds_
Where are you from and how did you get to be living in Esperance?
Born here, in Esperance and lived in Sydney for 25 years, working with Foxtel and Channel Nine, a bit of media background.
Anyway, we came back to Esperance for a holiday with the four children, and we found this place. Which was rundown, and not… loved. We saw the potential and fell in love with it, and that was 5 years ago.
We've slowly been chipping away at it, and reviving it again.
Initially, we had no idea what to do with the chalets, kind of like "well, gosh, what do we do with these strange buildings", but after a bit of research, we saw the popularity (of the chalets), and it's just taken off really. As well as Esperance coming back on the radar after being a sleepy little town, with these amazing beaches. It's become kind of the place to see, really. It has seen a lot of social media coverage in the past few years.


Photos - lovechilds_
Where have you drawn inspiration for the interiors at the village?


That's a tricky one, I suppose it just came from how I would like to holiday, and a place that I would personally enjoy. Casual, coastal feel. And the whole grounds feel that way too. We are on eight and a half acres here, on the edge of town and ECV is not a hotel feel, it really is a village feel. 13 properties, all quite spaced out it has a sweet and old-style kind of charm to it.
We also really try to bring in the local feel too, by offering local products, such as Bedtonic linen, locally ground coffee and the like.


How did you come to first using Bedtonic's linen in your chalets?
It was very important for us to be sourcing from local suppliers as much as we could. Being from WA originally, it was very important to be building relationships with local businesses.
And we certainly did our research into the different brands of linen and bedding, but Julie's sheets came out on top. I fell in love with the products. And obviously, once you sleep on Julie's linen, you never go back.
So eventually we would love to have it throughout the whole village, but at the moment, we have it in select rooms.
King Shack bed: Pure Linen Duvet Set in white + fog, Pure Linen Sheet Set in winter white. Photos - lovechilds_
What is one of the most important things you find about hosting guests?
I think particularly in our industry, if you don't have a good bed and provide a good night's sleep, then you're doing something wrong! And being a mum, you definitely do appreciate a good bed, its a winner. 

Photos - lovechilds_
What are the most common things your guests tell you they love about ECV?
There's a sense of space and sense of peacefulness, which is why we fell in love with it originally, coming from the big city. You know, there's no traffic noise, no neighbours, just the birds and the creek and the room to roam. And the kids just ride around on their bikes, and fish and kayak in the creek.
And we do get a lot of comments on the linen, because I've noticed that a lot of people have never used linen before and never slept in it, so they wonder what the difference is. I mean, the bed is good, but you're sleeping in pure linen.
We've had quite a lot of media and interesting people come to stay, including the Seafolly campaign, Kevin.Murphy, Country Style magazine, Real Living Magazine, a lot of press and interest in the village and Esperance.
As well as a movie recently being shot here, Dirt Music, by Tim Winton, so that was all very exciting and the town has just been buzzing!

King Shack bed: Pure Linen Duvet Set in white + natural, Pure Linen Sheet Set in winter white. Photos - lovechilds_
Is ECV everything you thought it would be? What surprises you?
It was a big change for us. Having a media background was a bit of help, you become a jack of all trades, you've got to wear all hats, learning a new industry was a bit tricky. We just wanted to provide a holiday experience that we would ourselves enjoy, keep it moderately priced, and offer something a little different. We have the benefit of having a bit of space.
You're only as good as your last guest too, I'm very conscious of that. Always need to listen to feedback, and where we can improve. We get a lot of international guests, so even hearing about what they have experienced at other places they had stayed.
We have self check-in which so many people love, it gives a feeling of privacy and ease. We communicate everything prior to arrival, a welcome package, local tips, instructions, etc. and there is always someone on site. But most people really appreciate the whole self check-in aspect, similar to an Airbnb, which we are also using as a booking system in addition. If you're an accommodation provider and you're not advertising on Airbnb, you're mad.
Photos - lovechilds_
What does the future hold for ECV? Any plans in the works?
We have recently had some architects from Perth visit, we are looking to create a communal space, as we don't yet have an area where groups can come together while they visit. We have renovated before in Sydney, but we would like to, again, source local talent, and so we have had Whispering Smith Architecture visit from Fremantle. That was really inspiring and fresh and I love that they are thinking outside the square. So the next ten years or so here will be very interesting, to see how we can position ourselves a little bit more towards the groups, and bigger families. We are looking at creating a communal kitchen, offering something a bit more quality, and a spa-like ablution block as well.
And then possibly some camper like A-frames as well. If the larger chalets had a baby, that's what this would be. Still a strong structure, just something a bit more downsized. All your necessities provided, linen and such, but just smaller.
So we're not going anywhere soon. And why would we now we've broken the back of all the hard work. Those first few years were just so full-on, 17 properties to renovate, it's been constant. And landscaping too was a big part, luckily my husband was a landscaper and a builder, which very much helped!
Photos - lovechilds_
Where would you go for your ideal escape and what's one thing you would never leave home without?
I'm mad for my little handmade pottery cup which I bought from a local girl here called Mitsuko. I take it everywhere with me, my little keepcup, even when I go away, I just don't want to use anything else.
Depending on whether I need an immediate escape, number 8 chalet looks really good, because it has the bar. Pretend I'm a guest, close the door, turn the phone off.
It's hard to get away usually, because there is always something going on, but if I do, it's often somewhere off the radar, and also somewhere I can experience something that we could use to better ourselves here at ECV, so it's a work reconnoitre, really. I do love Captain's Rest in Tasmania, owned and run by my good friend Sarah. It's somewhere I can watch ducks on a pond and be still.
A huge thank you to Fiona for sharing her thoughts and journey with us, and we wish her the best of luck!
Interview and introduction by Cassandra Way, photos by @lovechilds_
 All suppliers mentioned listed below:
The Whispering Smith Architecture @whisperingsmitharchitecture
Downtown Espresso Bar @downtownespressobar

Upward Spiral Roasting @upwardspiralroasting
Kimberely Spirit @kimberelyspirit
Mitsuko Ceramics @mintbluesea
Artists
Knot and Weave Macrame @knotandweave
Wildberry Art @wildberry_art
Tammy Andrews @tammyandrewsartist