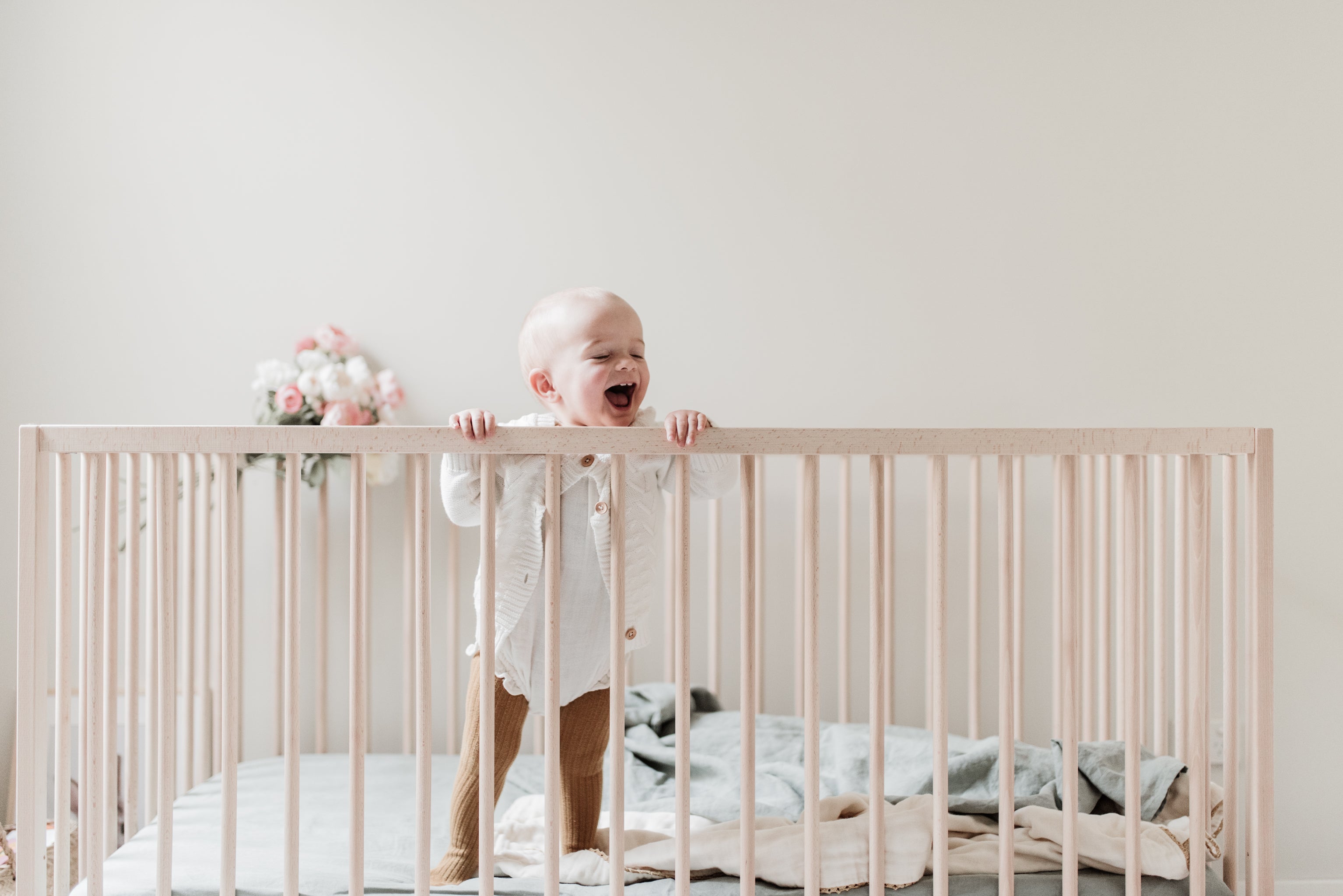 Bedtime Stories: Ines and Ella

Perth based lifestyle photographer and blogger Ines Pandžić is a very busy mother of nine month old baby Ella. In a recent article on her blog she describes her efforts to balance her work and home life with a desire to be present and in the moment with her daughter, something that I'm sure every parent can identify with.
Here she talks about living mindfully, the secret to a good nights sleep and the best way to spend a weekend in Perth! 
What does a typical weekend morning look like at home?
On Saturdays we always wake early because it's market day. We try to get to the Subiaco market early to get our weekly fruit and veg and typically eat breakfast there too. On Sunday mornings, we're not in a rush to get anywhere. Ella wakes up, comes to bed with us and we stay in bed for as long as she is happy to roll around there. I'll then turn on cartoons for her while I make pancakes. This is true of most Sundays.
Have you made any special family meals recently?
We're having a lot of soups and stews at the moment. Creamy pumpkin, barley stew, leek and potato, pea and zucchini soup with bread from Wild Bakery.
What about the secret to getting your little ones to sleep?
I am still figuring this one out. What I do know is that little ones love routine, they love comfort and they are very sensitive. They are sensitive to our daily chaos and they don't like to be rushed.
So I guess I'm saying I think the secret is to have a routine in the sense that you make sure their bellies are full, they are clean and comfortable. It's important that any routine you follow is a good fit for them personally and what they are going through at that time. If Ella is not feeling well for example, I won't insist on her going to sleep at a specific time.
Do you have any self care routines that you swear by?
Eating well. I think we can offset a lot by eating well. My ability to combat stress, demands, schedule and anxiety is largely influenced by how well I've been eating.
What's important in your home?
Over the last two years, I have become conscious of gathering good quality household items. I now wait to purchase anything for the house rather than buying something that serves a function, but ultimately ends up in landfill.
A good night's sleep starts with our morning. Our sheets, are they clean? Is our room tidy? Have we let fresh air in? Are we nourished?  
What items in your home get the most use?
Towels, sheets, pillows, kitchen cookware such as spoons, knives, plates.
What spaces/ things in your home bring you the most joy?
If I was describing our future home, I would have a lot more interesting things on my list! But for now as we continue the renting grind the thing that bring me the most joy is my La Creuset pot. It's beautiful to look at, feels like a dream and cooks food perfectly every time. And I love my French market baskets. I couldn't live without those.
What are your tips for keeping everyone in the family healthy through the Winter?
I use lemons, ginger and turmeric a lot. I add them to everything and anything whenever possible. This is why I am such a huge fan of soups. You can ingest a lot of goodness that is easily digestible and accessible.
What's your favourite thing about Winter in Perth?
All the green comes back into focus. The leaves have fallen but the ground is booming with life. 
How do you treat yourself/ your family?
Transitioning into motherhood has meant putting my needs aside. But in the process I think I have learned that having an hour to myself, or even just having someone look after Ella while I take a shower is a treat.
Also, we stick to the simple things in life. Breakfast out with the family. Taking a day off!!! That is huge for us because my schedule does not allow for much down time.
What are you looking forward to?
I've never been much of a long term type of person, rather I am always looking forward to what is around the corner. For us that's a trip down to Donnelly River, celebrating Ella's first birthday and our next Christmas with my family in Chicago. 
--
Ines Pandžić is a lifestyle photographer and blogger based in Perth, Western Australia. Her focus is on simple, thoughtful living. See her blog and recipes here.