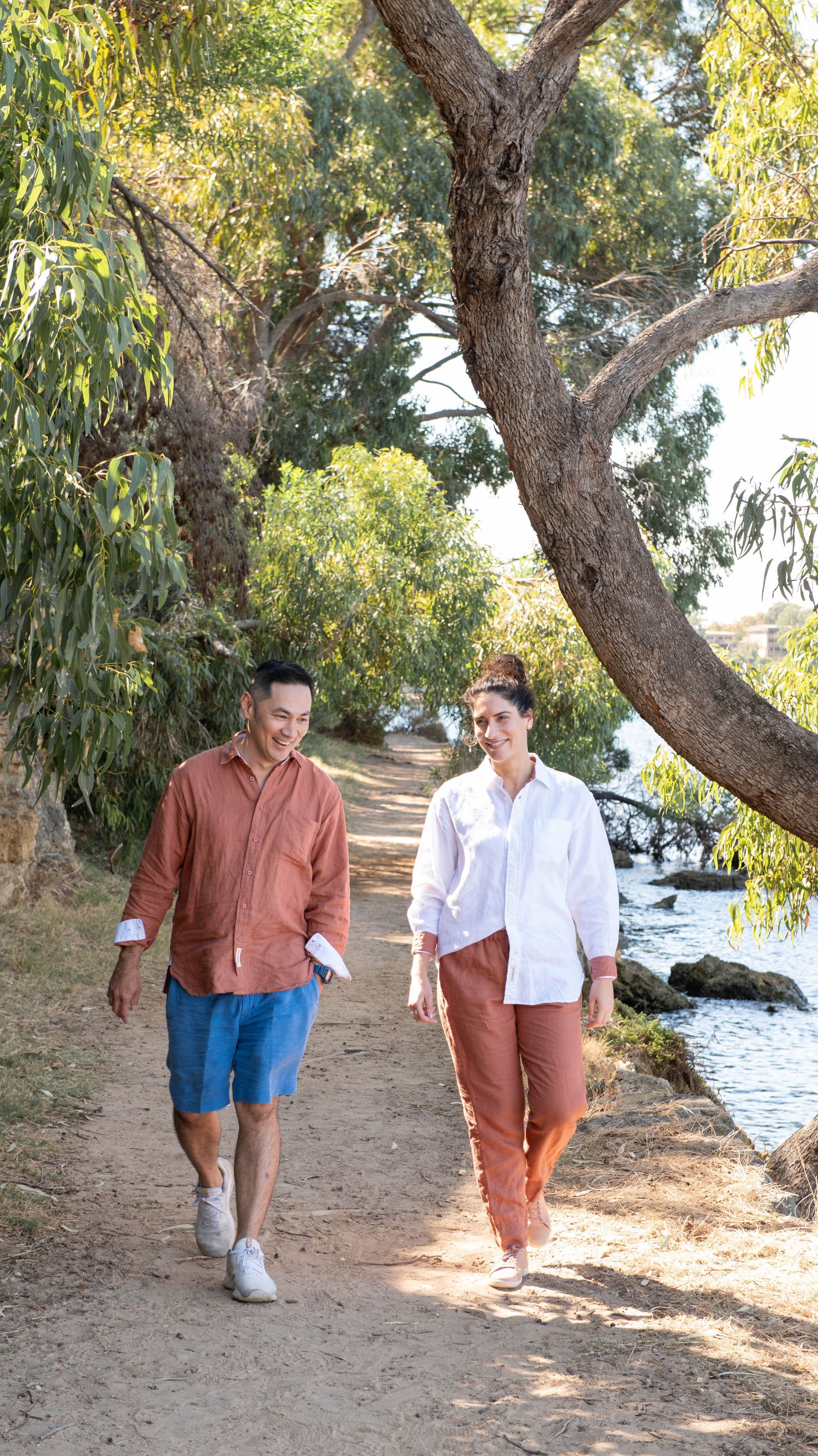 LINEN CLOTHING
Find uncompromising comfort, sustainability and style in Bedtonic's linen clothing. Every collection is designed through the lens of longevity and circularity to reduce environmental impact. Designed in Western Australia, our beautiful collection of timeless, size-inclusive clothing is made using premium, natural and eco-friendly materials. With a focus on strength and durability, we pay particular attention to our seam finishes giving your garment not seasons of life but years-plus, it's so comfortable that you'll want to eat, drink, work and sleep in it.
Over 50% of our linen clothing collection is made in Western Australia in small batches. Read More
The Benefits of Linen Clothing in Australia are Unmatched!
If you've been searching for some beautiful key pieces to add to your wardrobe, that are comfortable as well as stylish, look no further than our Australian linen clothing line available now in Bedtonic. Linen is such a versatile material offering a huge range of beneficial properties, especially when it comes to clothing. You'll never get towards the end of your daydreaming of getting out of your outfit as you do with other durable materials such as denim, because linen is so extremely light to wear. It's also one of the few natural materials capable of regulating temperature — it will help keep you cool in the heat as it allows air to circulate continuously, and it can help to keep you warm on a cold day when you layer it because it remains a constant temperature.
Linen is highly absorbent and yet able to release moisture quickly, meaning it's perfect for long, busy days where you might find yourself perspiring. You might be wondering if this leads to odours or staining, but it's quite the opposite! Linen is naturally antibacterial, it doesn't absorb odours, and as a bonus, it acts as a natural insect repellent. This means it's also highly beneficial to those with sensitive skin because it's hypoallergenic and can help to prevent certain allergic skin disorders such as eczema. And as if it couldn't get any better, you can wear linen clothing over and over without compromising on quality because it's one of the strongest natural fibres and remains that way no matter the activity.
Make an Eco-Conscious Choice by Sporting Women in Linen
Did you know that fashion and homewear goods are some of the most polluting industries on the planet? And of course, we're not suggesting that you stop buying these completely, because everybody deserves a little indulgence now and again, right? What we are aiming to achieve, however, is a more self-aware society that prefers to invest in hard-wearing products that will last through the years, without compromising on style. Every one of our products, including our linen women's clothing, is stitched with French seams and double top stitching where feasible, elongating their longevity. We also support the use of European flax for our garments, which is far more durable, meaning that your pieces will hold their colour and shape during washes. But don't let that trick you, flax is incredibly gentle to the touch and even less harmful to the environment to harvest.
Sustainable Women's Linen Clothing for Everyone in Australia
We've got you covered from top to bottom with plenty of options in our ever-growing collection, all made from high-quality breathable linen for soft and comfortable wear every time. From pants and skirts to tops and tunics, you'll have plenty to choose from, including our ever-popular Australian-made linen dress selection. Style doesn't have to be difficult, and linen provides the ultimate comfort no matter how you choose to wear yours.
And not only is there something for everyone in terms of style, there's something for everyone in terms of size too. We're proud to be size-inclusive and our sustainable linen clothing is designed to flatter a wide range of body shapes. They're the kind of staples you want to buy in every colour, and you can rest assured they're built to last too. Fast fashion is a thing of the past and all of our linen is woven with sustainability in mind. Linen is created from flax, which has a much lower impact on the environment than cotton, and ours is sourced ethically and responsibly, traceable every step of the way. And all our items are made with great attention to detail. Our seams, for example, are finished with longevity in mind. And another amazing property of linen is it gets softer with age. The more you wear your favourite women linen pants, linen tops your go-to shirt, or your linen tunic tops, the better it becomes. Your pieces will be truly timeless as they survive the day-to-day, for years to come.
It's Time to Treat Yourself to Luxury Linen Clothing in Australia
Become the proud owner and wearer of beautiful linen loungewear pieces like one of our linen dresses that's made in Australia and worn by Australians and visitors alike. You'll be blown away by the high quality and gentle feel it has on your skin — you'll never want to wear anything else! And you can enjoy 10% off when you join our mailing list, as well as receive all the latest news and updates on the Bedtonic brand and the products we and our team pour our hearts into. Read Less