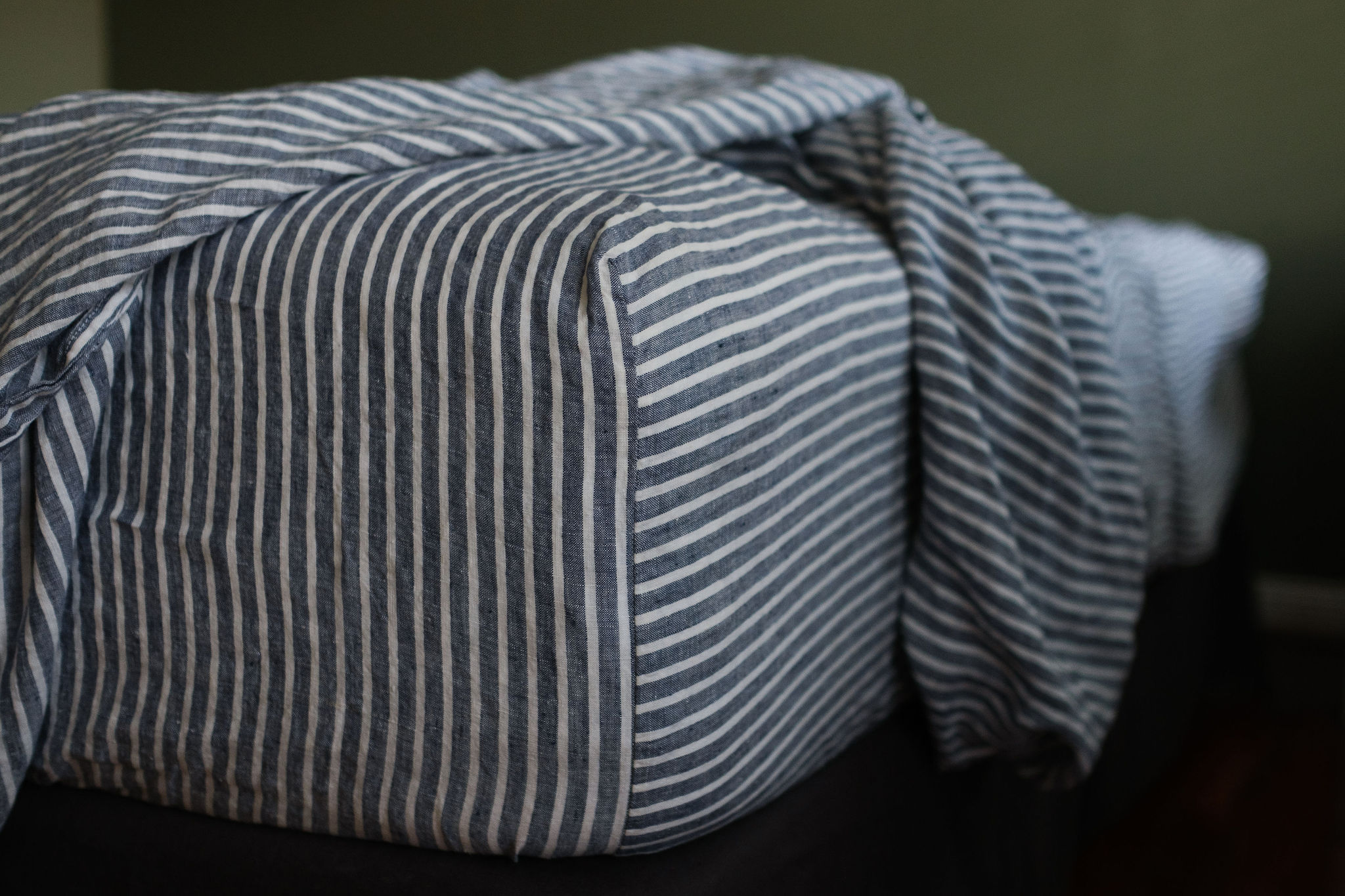 LINEN FITTED SHEETS
Our soft-washed sheet separates are the best choice because they're made of mid-weight breathable linen that stores well, washes well, and fits well. Our separates also come in a stunning array of colours that mix and match beautifully with any decor. We're serious, if you've never tried sleeping on linen, you're in for the best night's sleep of your life. And once you've had a taste of what sleeping on linen is like, you'll find you never want to go back to your old ways of sleeping. Nobody likes waking up in the middle of the night because they're feeling too hot, or too cold, and that will be a thing of the past with a fitted linen sheet like ours. They're suitable for use all year round, no matter the season, due to their ability to keep heat and humidity away from the body. Linen is porous, which means it's able to absorb moisture and redirect it, and that's a huge thing when it comes to quality of sleep! That damp sheet feeling you may have felt before will never be felt again with a linen fitted sheet. Ours are available in both king and queen linen fitted sheet sizes so we've something for every kind of sleeper. Read More
Sleeping on a Linen Fitted Sheet Might Just Change Your Life
And there are even more benefits to sleeping on a linen fitted sheet. Not only do they help to regulate your temperature thanks to their unique properties, but they also allow air to circulate constantly which can help improve blood flow, as well as help to stop harmful bacteria getting to your skin, because linen is naturally antibacterial. This is especially helpful for those with sensitive skin or allergic skin disorders. And because they're absorbent they're perfect for protecting your mattress from oils deposited from your skin as you move, and any perspiration you may experience overnight. They're highly durable too, so you can have a great night's sleep over and over again while feeling your sheet get softer and softer, because linen actually softens up over time rather than disintegrate as cotton sheets can.
A Fitted Linen Sheet to Suit Your Every Desire
Fitted sheets are such a simple idea and yet such a time saver. All of our pure linen bedding like our linen fitted sheets here at Bedtonic is woven beautifully by our wonderful team in Shenzhen, China who take great care and pay attention to the smallest of detail, so you'll never find yourself fighting with a sheet again. Our linen is sourced ethically and sustainably, meeting European Flax® Certification status, so you can rest your head knowing the sheet you're lying on can be traced every step of the way, from flax source to finished product.
And we all know sleep is personal to everybody, as is the surroundings in which you sleep. That's why our range of linen fitted sheets comes in multiple colours and sizes, including queen and king linen bed sheets. We sell our sheets as separates, allowing you to match your product perfectly as well as change it up when you want to without compromising on the high-quality sleep you'll have no doubt grown accustomed to. No matter the style of your bedroom or the feel of your room, it will be made better with linen. From bright whites to luscious greens, dusty pinks to dark slates, we know you'll be able to style yours beautifully.
There's Never Been a Better Time to Treat Yourself to a Fitted Linen Sheet
You deserve to relax in style every night with a sense of calm and serenity, and that's exactly what you'll be getting when you purchase a fitted linen sheet from Bedtonic. You can sign up to our mailing list today and feel part of the family as we share exciting news, new products, offers and more, with our valued customers. You also don't want to miss our latest linen clothing for women. It's high time you gift yourself a little bit of luxurious linen bedding, so pick out your favourites today! Read Less